Our Pastor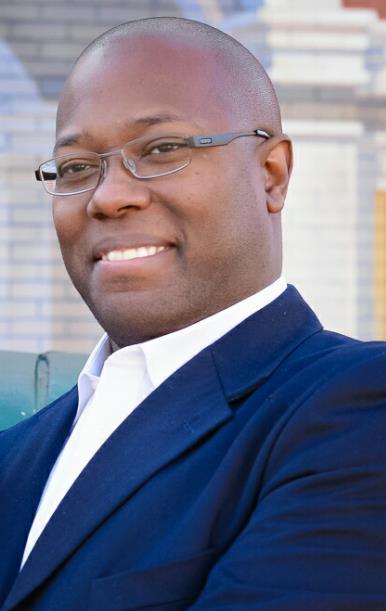 Pastor Todd M. Atkins
Rev. Todd M. Atkins was born on June 11, 1982 in Dallas, Texas to Tennell and Marshella Atkins. He is married to a beautifully spirited and lovely young lady, Michelle. They have two children Miles, and Ella. He was formally educated in the Dallas Independent School District and the Catholic Diocese of Dallas. Rev. Atkins accepted Christ at an early age at Salem Institutional Baptist Church in Dallas, Texas. In 2001, he accepted his call to the ministry under the pastorage of Rev. A. E. Campbell, Jr..
Driven with his spirit in mind and a heart for the will of God, Rev. Atkins furthered his Christian education. In 2004, he received his Bachelor's Degree in Biblical Studies from Dallas Baptist University. In 2007, he received a Masters of Theological Studies from Southern Methodist University, Perkins School of Theology. Rev. Atkins went on to complete two years of Clinical Pastoral Education at Methodist Dallas Medical Center. Also, he had the opportunity and privilege to serve as a Chaplain for Methodist Hospital, St. Michaels Hospice and Universal Health Services. At the present time, Rev. Atkins is a Chaplain at Grace Hospice.
Rev. Atkins' professional and religious experiences have adequately prepared him for his present position. He is a participant in many religious organizations, some of which are: Galilee Griggs Memorial District Association of Baptist Churches, National Baptist Convention USA, Inc., Dallas Area Interfaith, Spring Revival, Back to School Supplies, Black History Programs honoring community volunteers, Filling food baskets for the Needy Families/Family Institute and the Lucas Kitchenette/Food Kitchen.
He provided a needed link between community, local and city officials in the formation of a partnership to provide education about the community's role in economic development.
Rev. Atkins has organized several Town Hall Meetings in the South Dallas Sector to help inform the community of public services offered and available to them to improve the safety and quality of their lives in the neighborhood. A distinguished panel consisting of City Councilmen, Police Officers, Community Prosecutors, Marshalls, Code Enforcement and Strategic Customer Service to assist community. As a result, the organization of the Salem Improvement District was created. It is a collection of four churches committed to improving our community.
Since 2006, he assists in hosting a Back to School Bash, held annually in September where over 400 school supplies bags are distributed to elementary and high school students. Games, prizes, music, snacks, haircuts, vision exams, diabetes screenings, and immunizations are just a few of the services and activities provided to the community.
Rev. Atkins is also instrumental in helping to provide a Fall Community Festival Thanksgiving: Fill-A-Meal Basket, held annually in November. He assists with providing and distributing at least 60 Thanksgiving Baskets with all the trimmings to needy families with enough food for five people. Lunch boxes, words of encouragement and clothing are provided to children and adults in the community.
In February 2013, he was honored and recognized at the Family Institute's Black History Program by the Committee for his exemplary Community Service in the South Dallas areas.
Rev. Atkins is a visionary. Even though he looks back to the past to learn from it and is encouraged by what God has done for us, he realizes however, we cannot rest upon what has already been done. We must continue to press toward the mark of the higher calling, which is Jesus Christ, realizing there are fresh endeavors, greater accomplishments and new victories to be won. He looks forward to future growth, both spiritually and expansively.
On January 18, 2010, Rev. Todd M. Atkins accepted the pastorage of the Salem Institutional Baptist Church. The membership of the church exploded under his leadership, within two and a half years, by eighty new members. He possesses and extraordinary compassion for the congregation that he serves. With his voice, he teaches and preaches the Word of God to empower souls for Christ.
Deacon Board
Bro. Alton Levine, Sr., Chairman
Bro. Darn Banks
Bro. Emory Coleman
Bro. Mark Coleman
Bro. John Fuller
Bro. Willie Johnson
Bro. Michael Kizzee
Bro. Leonard Kizzee
Bro. Lovis Salter
Bro. Terry Wheeler
Trustee Board
Bro. George Lewis, Chairman
Sis. Lucy Cain
Sis. Vicki Ellison
Sis. Eura D. Jackson
Sis. Lisa Martin
Bro. Lovis Salter
Bro. Mark Coleman
Sis. Helen Hurd
Bro. Alton Levine